Previous Artists
Jason England
He is magic's leading expert on all things Erdnase – the most influential card magic book of the past century. He is an authority on casino gambling – more specifically, cheating with cards. He has some of magic's most dangerous hands, able to switch, change, and maneuver cards in the most clandestine manner imaginable.
A close friend and confidante to Steve Forte, Chris Kenner, and many other icons of magic, Jason also serves as a writer for MAGIC Magazine, the largest printed periodical of the conjuring arts.
Darwin Ortiz
As the world's greatest card manipulator, Darwin has been a featured performer at magician's conventions in the United States, England, Portugal, Argentina, and Japan, and has lectured on sleight-of-hand before countless magician's groups in the U.S., Canada, Australia, New Zealand, France, Italy, Spain, Switzerland, Belgium, England and Scotland. He is listed in both Who's Who in Magic and The Encyclopedia of Magic and Magicians.
David Roth
Considered to be one of the finest sleight-of-hand performers in history, and world-renowned as the finest coin manipulator alive today, David has performed the world over. He has made television appearances in South America, Europe, Japan, and of course the United States, where he has been seen on shows like the David Letterman show and HBOs "Magical Moments". He has won numerous awards, including the coveted Magician of the Year award at the Magic Castle and their Creative Fellowship for Lifetime Achievement in Magic. He has been backstage magical consultant and assistant to Ricky Jay in "Ricky Jay On The Stem" and has traveled extensively with Mr. Jay in the hit show, "Ricky Jay & His 52 Assistants".
Joshua Jay
Joshua Jay is an award-winning magician, author, and lecturer who has performed his show in over 59 countries. In 1998 he was crowned World Champion of Close-up Magic at the World Magic Seminar, and he has subsequently appeared on every major television network, including Good Morning America and the Today Show. He is the author of seven books on magic, including the best-selling MAGIC: The Complete Course, which is available in four languages. Jay specializes in close-up magic and is a headliner at the famous Magic Castle in Hollywood.
Johnny Thompson and Pam
Johnny Thompson is a Polish-American Las Vegas illusionist who performs under the stage name The Great Tomsoni with his wife, Pamela Hayes. They have a comedic slapstick act with the well-dressed Thompson and his gum-popping assistant, Pam, performing illusions while enduring a series of mishaps. Within the magician community, Tomsoni is considered a virtuoso, widely known as a mentor and teacher of magic, and a creator of tricks, as opposed to simply a performer. He has worked behind the scenes with magicians such as Penn and Teller, Lance Burton, and Criss Angel. In 1999, he was awarded one of the highest honors in the magician community, a Masters Fellowship with the Academy of Magical Arts.
Bill Abbott
Performing by the tender age of 7, Bill's magic has taken him all over the world. Over the past 18 years, he has been in constant demand for private parties, corporate functions and special events, becoming one of the most sought-after experts in this unique field of entertainment.He participated in the award-winning documentary Sleight of Mind and has made numerous television appearances, including a stint on Talk TV, where one of his illusions caused host Ben Mulroney to flee the studio, screaming, "I've been violated!"
Asi Wind
He is globally hailed by magicians as being one of the few performers in the world to constantly innovate, develop, and perform entirely original material. Indeed, when a magician wants to be fooled, he attends Asi's show. No surprise, then, that a committee of his peers recently presented him with the International Merlin Award for "Most Innovate Show" – an award previously given to David Copperfield, Criss Angel, and Penn & Teller.He is currently one of the main advisors for David Blaine's upcoming television special – a project that, for now, remains secret.
Caleb Wiles
Linking Ring Magazinecalls Caleb Wiles "a new star on the magic horizon!" And there is a good reason: Caleb is a powerhouse of an entertainer. You might say that he was born to perform magic. His tricks have appeared in leading magic magazines, books, and DVDs. He is a sought after lecturer and his latest book High Spots was an instant hit with magicians all over the world. Don't miss your opportunity to witness one of the true experts in magic make the impossible happen right in front of your eyes.
Jeff Hinchliffe
Jeff is a world class card-man, a magic store demonstrator, and an expert educator who's spent more than a decade teaching people of all ages how to do better magic.  He's considered one of Canada's foremost experts with mem-deck and stack work.  But I've already said too much.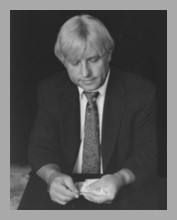 Allan Ackerman
Allan Ackerman is an American magician who specializes in sleight of hand magic with playing cards. He has written a series of books, and performed on several instructional DVDs that teach elementary sleight of hand all the way up through advanced card work. Ackerman has also been a professor of mathematics at the University of Nevada, Las Vegas, and in addition to card magic, he also performs coin magic.
In a poll filled out by his peers in the 1970s he was voted the BEST card worker on the planet.  Since then, as amazing as it sounds, he's only gotten better.
Simon Lovell
Simon Lovell is an English comedy magician, card shark actor, and con man. The author of sixteen books, including Billion Dollar Bunco, which covers cons and scams, Lovell currently stars in a one-man off-Broadway show called Strange and Unusual Hobbies. It has run for over four years at the SoHo Playhouse in NYC, and the Wall Street Journal complimented it by saying, "A dazzling 70 minute show." The well-reviewed show combines Lovell's off-the-wall sense of humor with demonstrations of his uncanny card cheating and "jaw-dropping" magic.